A weekly podcast from the Editorial team at Ultimate Motorcycling. The first segment includes product reviews, and the second segment chats with someone moto-interesting. That includes riders, racers, collectors, industry insiders who have something entertaining to share. All feedback and suggestions welcomed at producer@ultimatemotorcycling.com.
Episodes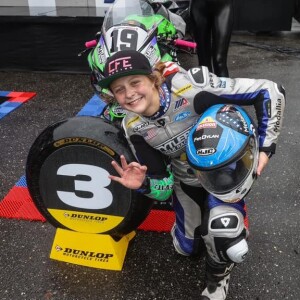 Wednesday Oct 04, 2023
Wednesday Oct 04, 2023
In this week's first segment, Senior Editor Nic de Sena tells all about the Aprilia RS 660 Trofeo. The fabled Italian racing marque has produced a track-only version of its excellent streetbike, and Nic gave it a good thrashing around Laguna Seca recently. Even if you're not a track junkie, you'll find this to be an interesting take on an already really good machine.   
In the second segment, Associate Editor Teejay Adams chats with teen racing sensation Kayla Yaakov.  Kayla made a name for herself in the smaller classes as she was growing up, but having just turned 16 a few weeks ago, she was able to move up a class and race 600 Supersport for Tytler's Racing at the last Moto America race of this year. In case you're thinking this may be hype—she finished on the podium in 3rd place, having started the race 13th on the grid. That's a heck of an accomplishment for a first race in the most competitive class of them all. Teejay chats with Kayla about growing up and where it all started.     
From all of us here at Motos & Friends… we hope you enjoy this episode!
We love your feedback! Please comment or suggest:
  @ultimatemotorcycling
 @UltimateMotoMag
 @UltimateMotorcycling
 producer@ultimatemotorcycling.com